Sonic bets big on iPad
From service to sales, tablet use spreads
By Amy Wilson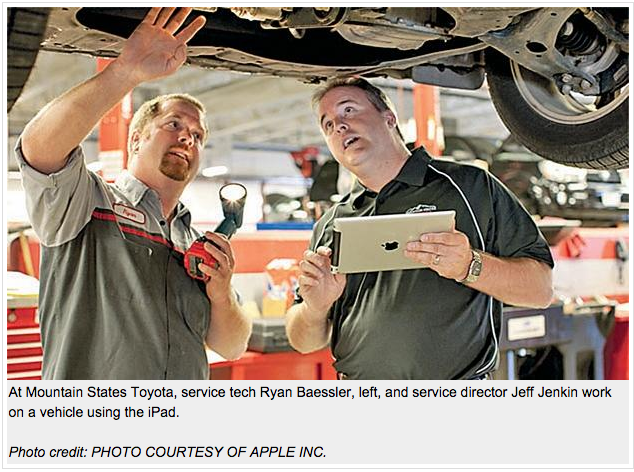 With iPads in hand, service advisers at 34 Sonic Automotive Inc. stores are greeting customers -- and watching repair orders grow as they walk around the vehicle.
At the stores that use service iPads, customer-pay business is up. For example, grosses per repair order have risen 11 percent on average at Toyota dealerships and 8 percent at Lexus stores. Apple even acknowledged Sonic's accomplishments in a rare shoutout during the iPad maker's earning conference call last October.
By next April, service department iPads will be in all Sonic stores. And the retailer's big Apple initiative doesn't end there. Sales reps already are getting iPads, too.
"We've made a huge, huge, huge, multiple-tens-of-millions-of-dollars commitment to go this way, and it's just going to keep getting bigger," Sonic President Scott Smith said in an interview. "We're rolling out the iPhones and iPads to technicians, to service writers, to salespeople, to F&I, to porters -- and it's not cheap."
Sonic, the nation's third-largest retailer, is spending $57 million on technology this year. It's placing a big bet that arming its customer-facing employees with Apple devices will increase their productivity, convince customers to spend more and improve loyalty. Sonic is bucking the trend of other large public dealership groups by staying out of the acquisitions market now in order to invest internally.
Other big retailers are heading down the same path with tablets, but Sonic's efforts are on the leading edge.
AutoNation leaders have said they will arm their sales and service staff with tablet computers this year and next. Asbury chief Craig Monaghan envisions a day when tablets replace PCs in most areas of the dealership. Asbury has used iPads in some store pilots. Group 1 Automotive is using tablets in service departments at some stores. Lithia and Penske are running service department pilots.
Selling tires, maintenance
Sonic's budget for Apple products is big. But executives expect the payoff to be even bigger.
"Technology isn't a cost center," said Heath Byrd, Sonic's chief information officer. "It makes you a ton of money."
He said $24 million will be spent on iPads, iPhones and related software this year.
Evidence of the expected payoff is mounting in service departments. Securing just one or two high-dollar repair jobs the company otherwise wouldn't have gotten will cover the cost of an iPad, he said.
Sonic piloted the service iPads at a Denver Toyota store last summer and, after good results, began a full-scale rollout last fall. The company started with Toyota and Lexus stores and moved to Honda and Acura stores. Cadillac and Chevrolet stores are next.
While the average increase in gross revenue per repair order is 11 percent at Toyota dealerships and 8 percent at Lexus stores -- the only results Sonic will share -- Sonic says some dealerships -- especially in markets with young, tech-savvy shoppers -- have reached as high as 20 percent. Sonic estimates that the iPads are responsible for at least 5 percentage points of the increase, a rate that if achieved at dealerships companywide would equate to a $7 million incremental jump in Sonic's gross revenue, Byrd said.
The gain is coming in areas ranging from tire sales and vehicle detailing packages to maintenance and minor collision repair, said David Padgett, Sonic's vice president of fixed operations. Sonic has had to hire more porters and entry-level service techs at some stores to handle additional work.
The maintenance numbers are startling. Stores with service iPads are now averaging a 41 percent closing ratio on adding a maintenance item to a repair order. That's up from under 10 percent before the iPads, Padgett said.
No more interruptions
The key? The iPads have unlocked a dealership's handcuffs to its dealership management system, he said. Service advisers no longer have to constantly interrupt a vehicle walk-around to run over to the service desk and enter data into a computer, a practice that made customers impatient.
With the tablets integrated with the DMS, service advisers now can handle everything at the car with the customer. The software does not allow them to skip evaluation steps on a vehicle walk-around. Customers even help input some information and are more likely to find out a wear item is near the end of its life or have a bumper scratch pointed out to them.
"If you give them just a little bit of time and are able to walk around the vehicle with the customer and let them decide on the condition of their fluid or the tires, the customer is more apt to buy from you," Padgett said.
Customers can use the tablets to price-check competitors, and service advisers are empowered to match the lowest price, he said.
If an unexpected problem -- say, a radiator about to fail -- is discovered after the vehicle is up on a lift, technicians can take pictures and send them to the customer. Sonic offers a discount on the additional repair, and the customer is more likely to approve the work because the picture enables him to verify the problem, Smith said.
If a part for a minor fix, such as replacing broken interior trim, isn't immediately available, Sonic will send a mobile repair unit to the customer's home or office once the part arrives, Padgett said. That wasn't possible before. Customers love the convenience, he said. It can save Sonic money, too, because those parts are nonrefundable after 30 days and sometimes the customer never returns for the repair.
Apple connection
Sonic's iPad rollout comes after almost three years of planning and close work with Apple. Sonic executives were at Apple's Cupertino, Calif., headquarters when the original iPad was announced in early 2010. "We knew it would be a game-changer," Byrd said.
Apple, which launched the iPad primarily as a consumer device, realized the iPad's potential for business after its early work with Sonic and other companies, Byrd said. Apple's growing enterprise support group helps Sonic and those other early corporate users.
Apple's vendor partner, Lextech Global Services, a mobile application developer, has about half a dozen software engineers dedicated exclusively to Sonic, though the number rises during heavy distribution periods of Apple devices at dealerships, Byrd said. Sonic worked with Dealer Logix to build the service department application.
Sonic won't talk publicly about how the iPad will be used in other dealership departments.
Sales representatives started getting the devices last August, and 49 stores now have them in their showrooms. Rollout to sales departments will be complete next February, Byrd said. Eventually, about 3,500 employees will use an iPad, iPhone or both, he said.
Sonic's leader anticipates that the technology will revolutionize its dealerships.
Said Smith: "I'm so excited I can hardly stand it. We've been working on it for so long, and we're going to finally get an opportunity to see everything work. It's really, really, really cool."
Take it for a spin.
You know you want to.